Acupuncture: Safe, Effective, and Affordable!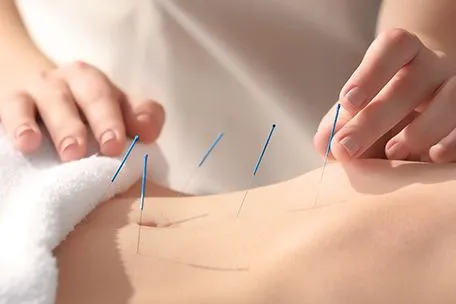 Why is it that a form of healing that has been around for almost 3000 years is only recently becoming so popular?
Why is it that record numbers of patients are flocking to acupuncture clinics all over the world to seek relief? Why are the American and British Medical Associations recommending acupuncture to treat and cure a wide array of conditions and actually placing licensed acupuncturists in hospitals?
Why has the Food and Drug Administration (FDA) decreed that acupuncture needles are as respectable a medical tool as a syringe or scalpel?
The answer is simple, ACUPUNCTURE WORKS. It is the oldest and safest form of therapy that the Chinese and other Eastern peoples have been using to restore, promote and maintain good health.
More than 12 million Americans have already turned to acupuncture, and the proof of its effectiveness is overwhelming. A recent study polled 28,000 patients who received acupuncture for various conditions. Some of the results of the study are as follows:
82% claim to have been cured or improved, said they would definitely use this form of medicine again and said they would recommend this treatment to anyone with a similar complaint
18% said the treatment was ineffective
There is overwhelming evidence from studies that acupuncture reduces pain by triggering the release of endorphins (natural pain killers produced by our body) and other substances by the nervous system. It has been proven that acupuncture also stimulates the nervous system to release ACTH (adrenocorticotropic hormone), a chemical that aids in fighting inflammation; prostaglandins, which help wounds heal faster; and other substances that promote nerve regeneration. It is for reasons like this why so many patients who suffer from arthritis find relief with acupuncture. Many look to acupuncture for its pain killing and anti-inflammatory results without the use of medications that can cause damage to your liver, kidneys and stomach lining.

Acupuncture is completely safe. Since acupuncture does not involve the use of drugs, you avoid the risk of side effects and dependency. In fact, many patients find the need for certain medications can often be lessened or eliminated over time as a result of treatments.
Only the finest needles are used and are used only once. Each area is first cleansed with a disposable alcohol swab. Only high quality, single-use, disposable needles are used. They are individually wrapped and disposed of after each session. Another disposable alcohol swab is used after removing each needle for each area for further sanitary purposes. The needles are disposed of in a Sharp's container and we have our needles disposed of by a certified Biohazardous waste company. Because of this process, there is no chance of infection.
Many patients who want an alternative to taking medication use acupuncture. Persons with allergies or adverse reactions to medications, those who are pregnant and unable to take medications, or those who just simply do not want to put medications into their bodies look at acupuncture as a natural alternative. It is a 100% safe, holistic approach to healthcare.
In the hands of a well-trained practitioner, acupuncture has much broader applications beyond pain relief. The World Health Organization (WHO) recognizes the use of acupuncture in the treatment of a wide range of common illnesses including:
Upper Respiratory System

Acute sinusitis

Acute rhinitis

Common Cold and Flu

Acute tonsillitis

Respiratory System

Acute bronchitis

Bronchial asthma (Most effective in children and uncomplicated conditions.)

Eye Disorders

Acute conjunctivitis

Central Retinitis Myopia (in children)

Cataracts (without complications)

Mouth Disorders

Toothache

Post Extraction Pain

Gingivitis

Acute and Chronic Pharyngitis
Gastrointestinal Disorders

Spasms of esophagus

Hiccough

Gastroptosis

Acute and Chronic Gastritis

Gastric Hyperacidity

Chronic Duodenal Ulcer (pain relief)

Acute Duodenal Ulcer (without complications)

Acute and Chronic Colitis

Acute Bacillary Dysentery

Constipation

Diarrhea

Paralytic Ileus

Neurologic and Musculoskeletal Disorders

Headache and Migraine

Trigeminal Neuralgias

Facial Palsy (early stage, i.e., within 3-6 months)

Pareses Following a Stroke

Peripheral Neuropathies

Sequelae of Poliomyelitis (early stage, i.e., within 6 months)

Meniere's Disease

Neurogenic Bladder Dysfunction

Nocturnal Enuresis (bedwetting)

Intercostal Neuralgia

Cervicobrachial Syndrome

Frozen Shoulder

Sciatica

Low Back Pain

Osteoarthritis

Carpal Tunnel Syndrome

Back and Knee Pain

Fibromyalgia

Chronic Fatigue

Sports Injuries and Pains

Reproductive & Gynecological Conditions

Premenstrual Syndrome

Dysmenorrhea (menstrual cramps)

Spotting and Excessive Bleeding

Amenorrhea (Loss of Menstrual Period)

Impotence

Infertility

Incontinence

Prostatis

Mental & Emotional Problems

Stress

Anxiety

Depression

Insomia

Treatment time is typically 30 minutes per session. Cost is $50.00 per session.